Dental hygiene is the professional cleaning of your teeth, which removes plaque, tartar, pigmentation and restores your teeth to their natural colour. Above all, it helps to prevent tooth decay and gingivitis. These diseases are caused by a dental microbial layer, which can only be removed mechanically using oral hygiene aids. If this layer is not adequately removed, bacteria are deposited in the layer, which in turn cause unpleasant problems for patients and bring them to the dentist sooner or later.
Most often, gingivitis occurs due to insufficient dental hygiene. At first, symptoms are likely to be inconspicuous swelling, sensitivity, and occasional bleeding of the gums. If plaque and tartar are not professionally removed, the bone and tissues around the tooth (periodontal disease) will become injured. Injury to the bones and periodontium (periodontitis) results in bad breath, bleeding, receding gums and loose teeth. Because the gums are inflamed, bacteria have easier access into the blood stream and can thus cause secondary infection and systemic diseases in distant organs of your body, such as diabetes mellitus, cardiovascular diseases, rheumatoid arthritis, cancer, and more.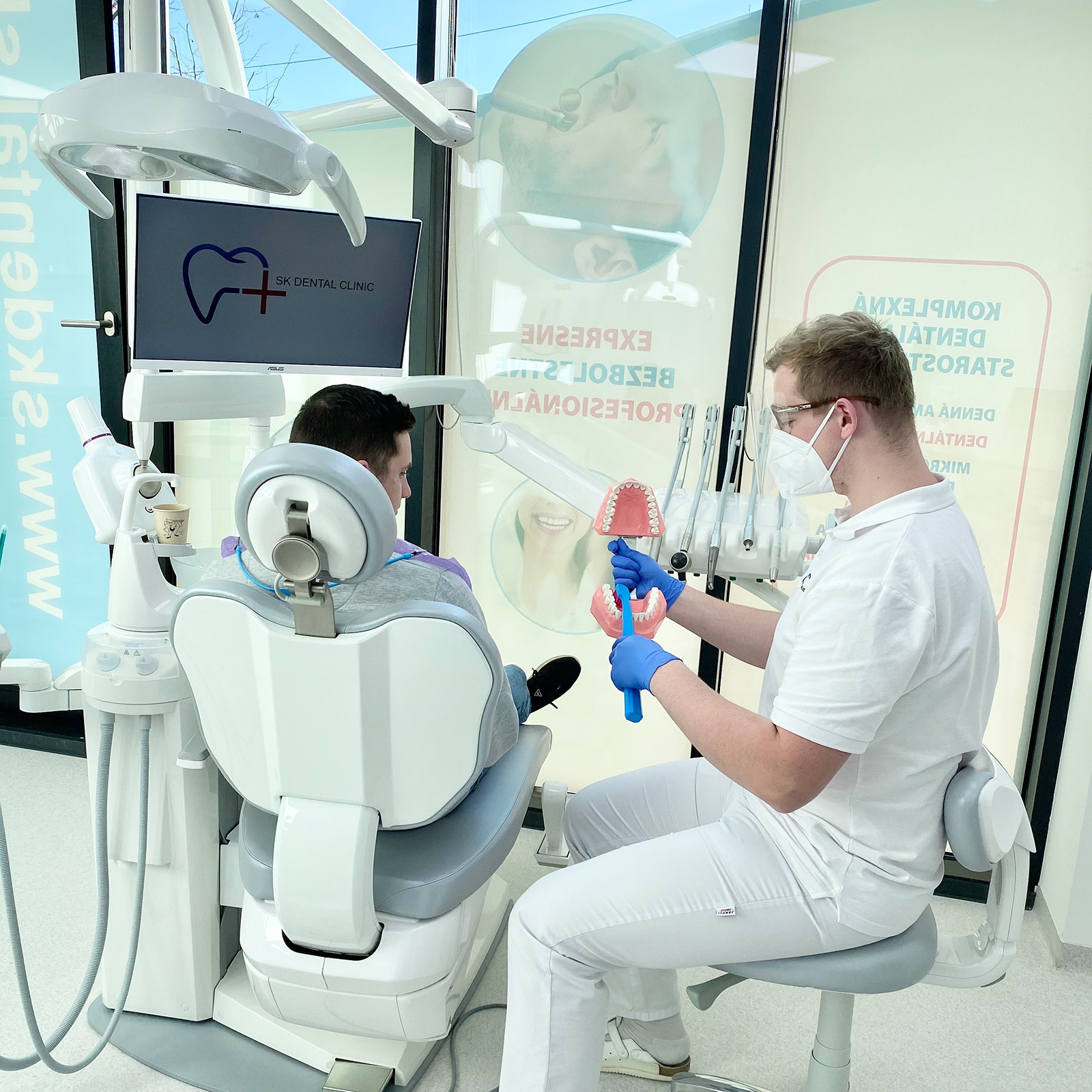 The optimal treatment cycle is once every six months. In general, two treatments per year are sufficient. For cardiology patients who have problems with tooth decay, and for periodontal patients, dental hygiene is recommended more frequently. The length of treatment is based on each person's needs; we consider each patient individually. In general, the treatment lasts 40-60 minutes. It depends on the patient's condition, whether it is their first visit, or whether the patient regularly receives dental hygiene.
The course of treatment:
Clinical examination – an examination of the state of the teeth, the state of hygiene, the periodontium…
Removal of plaque and tartar using an ultrasonic device – above and below the gum.
Final cleaning with manual tools – what are known as scrapers and curettes.
Sandblasting – or "airflow", removes dental plaque and pigmentation. This cleans the teeth to their natural colour.
Polishing – cleaning and polishing of teeth, by which we achieve their smooth and shiny surface.
Motivation and instructions  – specifically tailored to the patient's issue. Instructions on the use of dental aids – toothbrush, interdental brush, dental floss, etc.
Fluoridation of hard dental tissues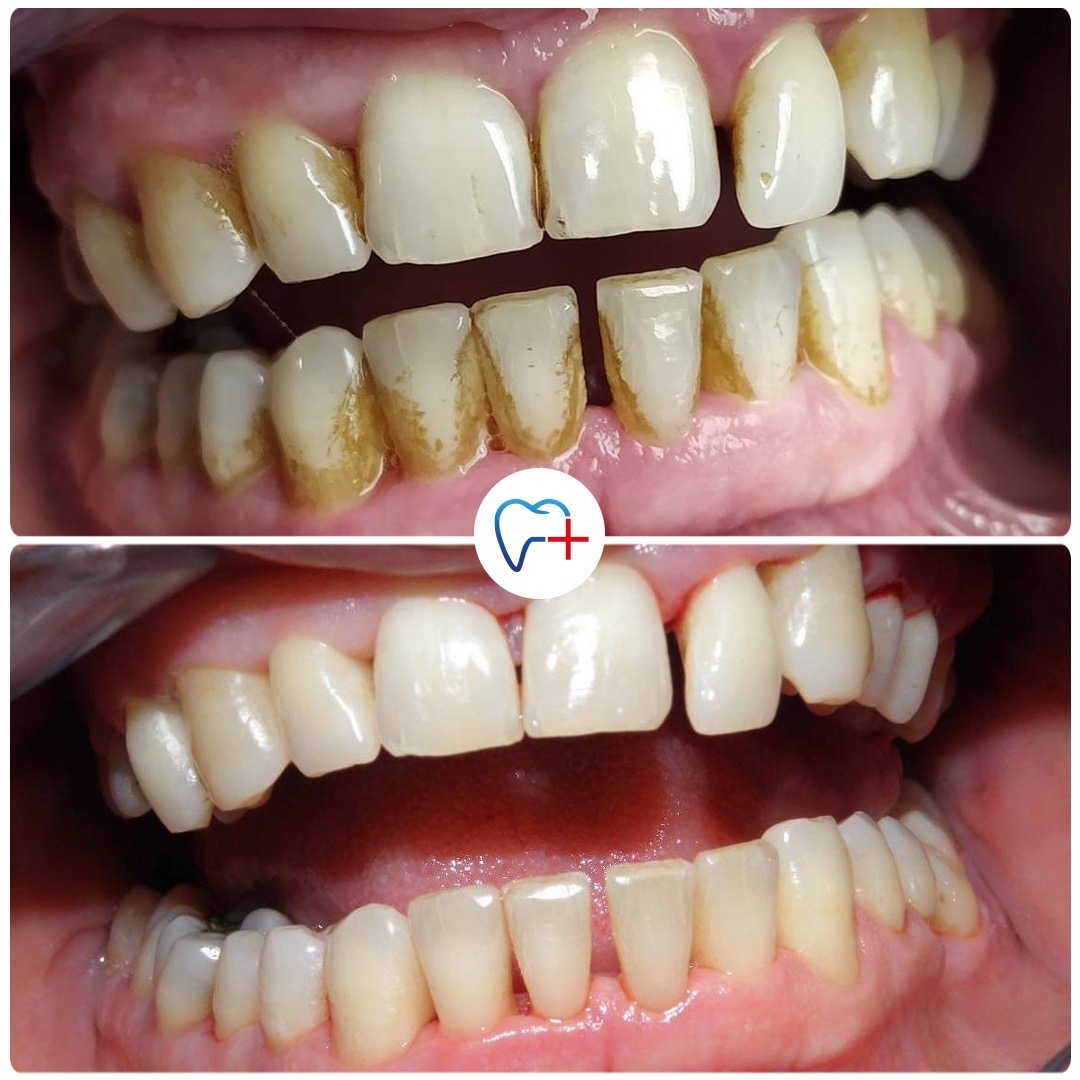 *The photos show the teeth of our patients before and after dental hygiene..
Teeth whitening
In our clinic, we use bleaching produced by a Czech company PureWhitening. You can use it to achieve a bright smile in less than a month.
This system combines convenient home whitening with professional care in an outpatient clinic. It includes initial thorough dental hygiene, the manufacture of dental veneers tailored to the patient, a set of preparations for home whitening and whitening at the clinic during the time of the whitening process.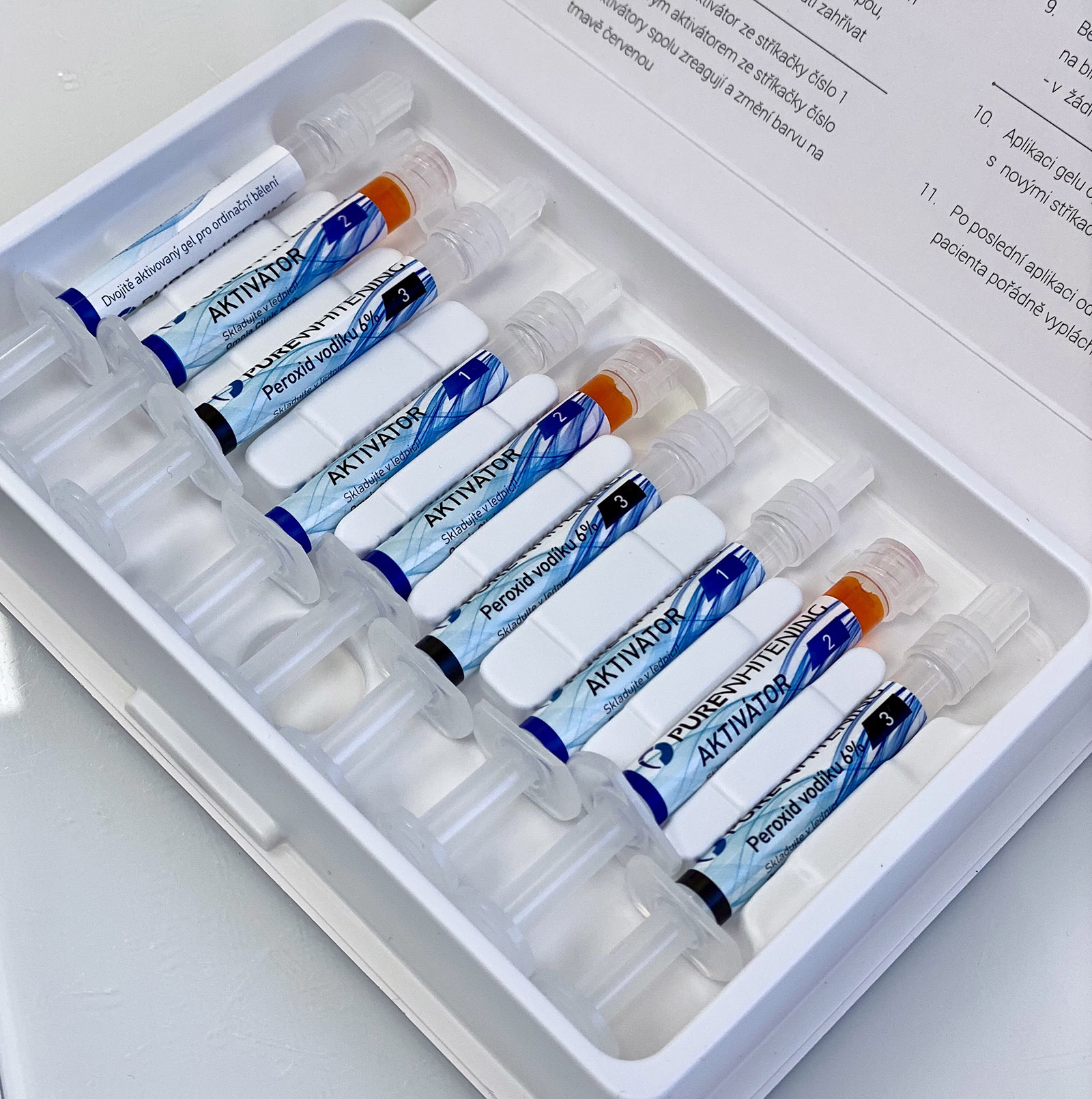 The photos show whitening from the original colour of the patient's teeth (B2) – we whitened the teeth to the BL2 tone, which looks very natural in the mouth.
We use the technique of whitening and bleaching:
Whitening: using an air-flow device and different grain sizes of dental sand with ultrasound.
Bleaching: using a splint and a gel containing hydrogen peroxide-urea and hydrogen peroxide.
The whitening phases using a combined whitening process by PureWhitening:
dental hygiene at the dental clinic,
making impressions of the teeth for dental splints at the dental clinic,
handing over the dental splints to the patient together with the home whitening kit,
a week of night-time home whitening using 10% hydrogen peroxide-urea,
a week of night-time home whitening using 16 % hydrogen peroxide-urea,
an hour-long in-office whitening using 6% hydrogen peroxide,
an hour-long daily home whitening using 6% hydrogen peroxide (for about 5 days).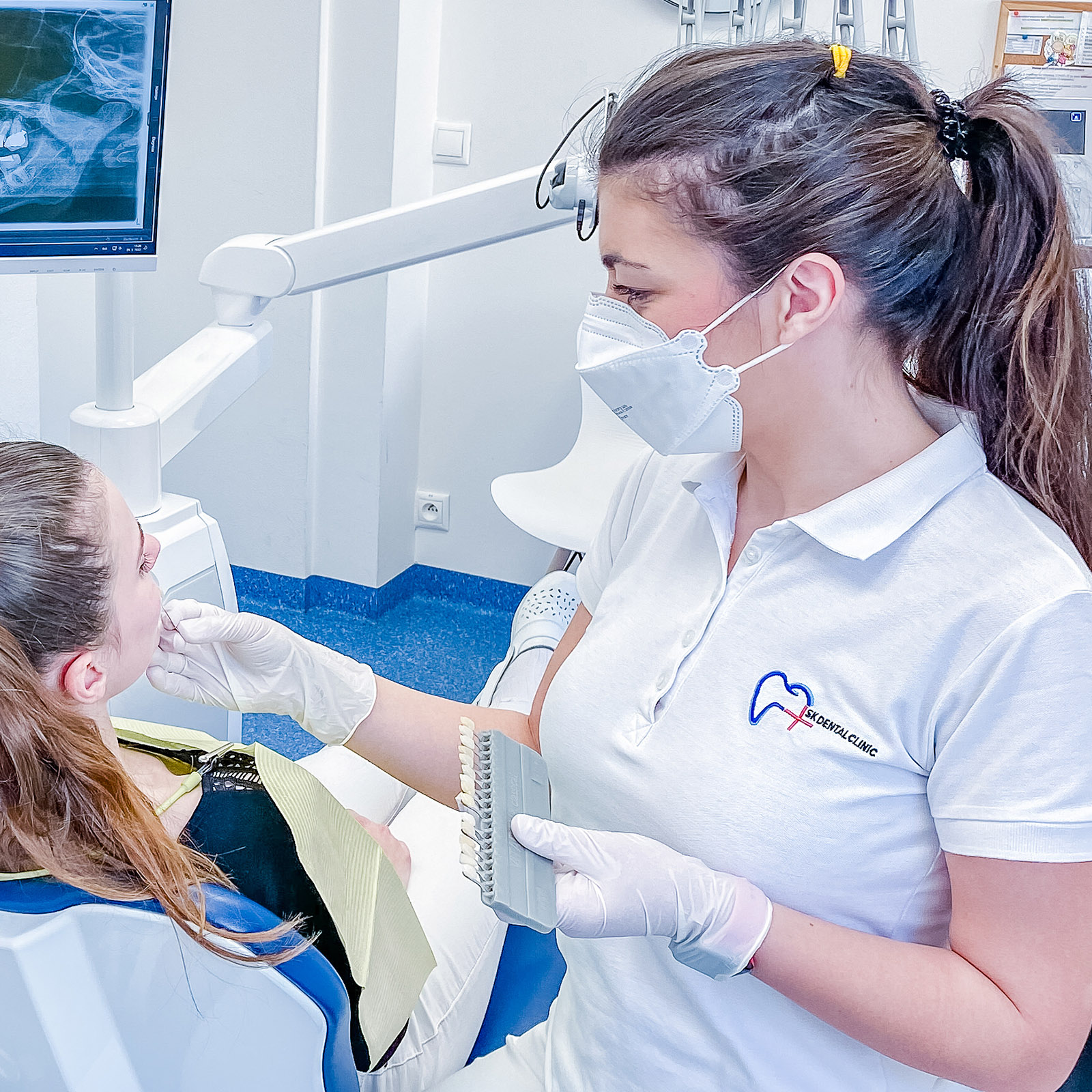 Combined home whitening using the PureWhitening product usually lasts 2 weeks. This is followed by in-office whitening (one hour-long visit to the office). After that it is necessary to continue with the whitening at home for another 2 to 5 days.
During the combined whitening using the PureWhitening preparation, it is not necessary to follow a strict white diet, but it is good to brush your teeth after each consumption of heavily coloured foods and drinks.
A prerequisite for successful whitening is the good health of your teeth. It means regular dental hygiene visits and responsible home treatment using dental floss, interdental brushes and a classic toothbrush. Only healthy and clean teeth can be whitened.