It's especially important for children to develop good dental care habits from an early age. Dental treatment in an outpatient clinic can also be a pleasant experience. Many children may feel nervous about visiting the dentist, especially if they've had a bad experience in the past. By providing dental care services for children, a paediatric dental practice can help alleviate the feelings of fear and anxiety during the visit.
By providing comprehensive dental care services, the children's clinic also helps to identify dental problems early on and prevent more serious health issues in the future. At the same time, parents can breathe a sigh of relief, because all their children's dental problems will be solved quickly, at once, and under one roof.
Treating children has its specifics and our doctors have them down to a science. They approach the youngest patients with respect, kindness and proper care.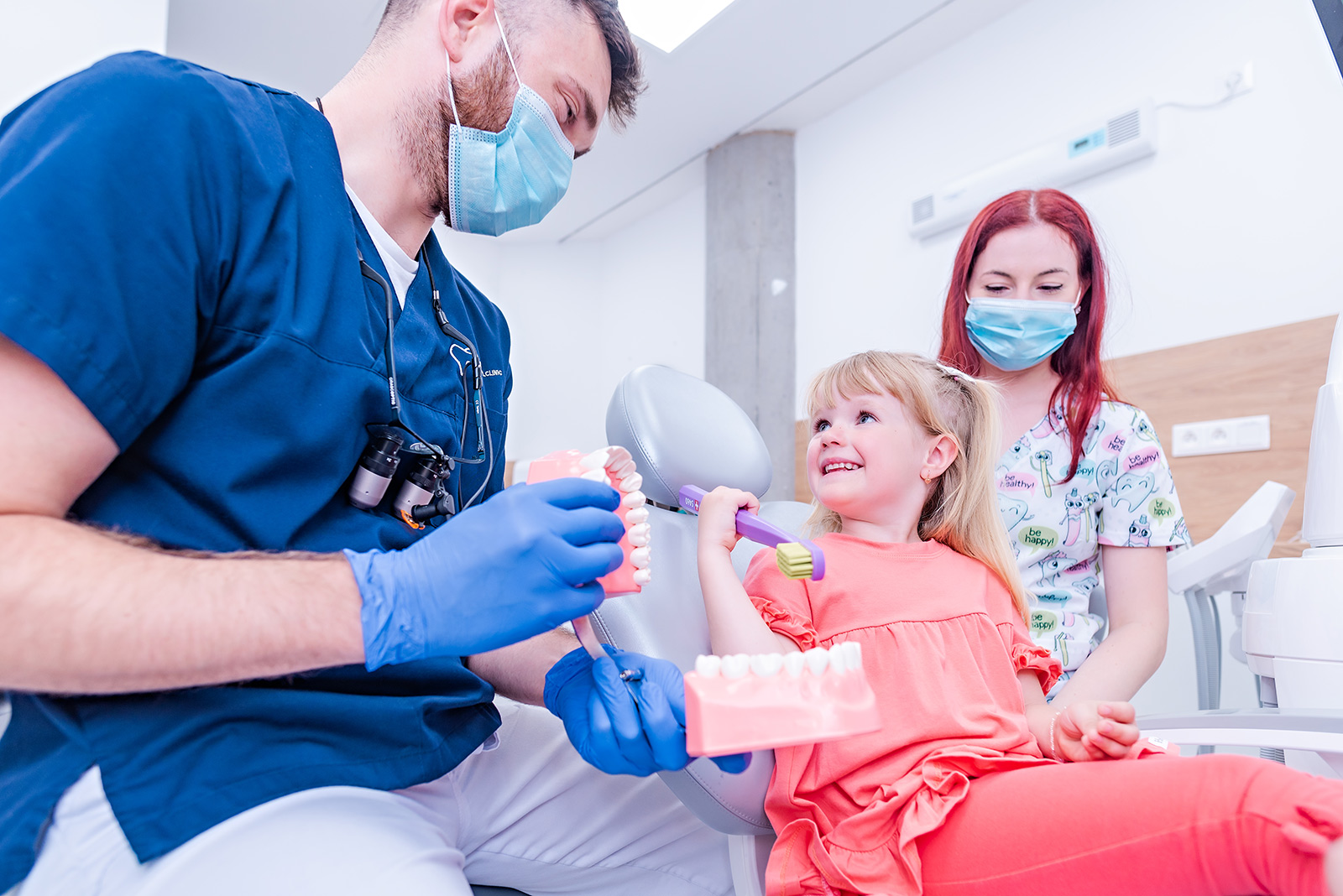 Children's dental clinic services
Entrance examination
The dentist's first meeting with your child will take place in a friendly environment. The dentist will introduce themselves, explain what will happen during the treatment, show the patient a mirror, which will then be used for the first visual teeth examination. An X-ray is part of the entrance examination as well. This way, the doctor can also find incipient tooth decay and see the cutting and establishment of both primary and permanent teeth. You can undergo the entrance examination in a single sitting together with your child without the need to move anywhere.
Treatment of tooth decay
Prevention of tooth decay is crucial. However, if a problem does arise, we will treat the tooth decay painlessly with a filling matching the colour of your child's enamel.
Treatment of dental trauma
When childhood adventures end in injury, we examine the teeth and surrounding tissues and treat the injury according to individual assessment.
Treatment of broken teeth
Broken milk teeth are treated very individually. Depending on the child's age and the broken tooth, the tooth is either saved or given to the tooth fairy.
Sealing teeth
A preventive, quick and painless procedure that significantly reduces the risk of tooth decay and lasts for many years. It is applied to the chewing surfaces of premolar and molar permanent teeth in the colour of your child's tooth enamel.
Removal of the labial and sublingual bridle
It's a simple and painless procedure. It heals very quickly, especially in children, and helps eliminate problems when breastfeeding your baby.
Children's dental hygiene
We teach children the proper habits from an early age. As adults, they already consider dental hygiene as a self-evident part of taking care of their teeth.
Treatment of incipient decay without preparation
We can treat tooth decay in the initial stage without drilling and stabilise it with a silver nitrate solution.
SSC crowns
Stainless steel crowns are used for extensive carious destruction of deciduous molars.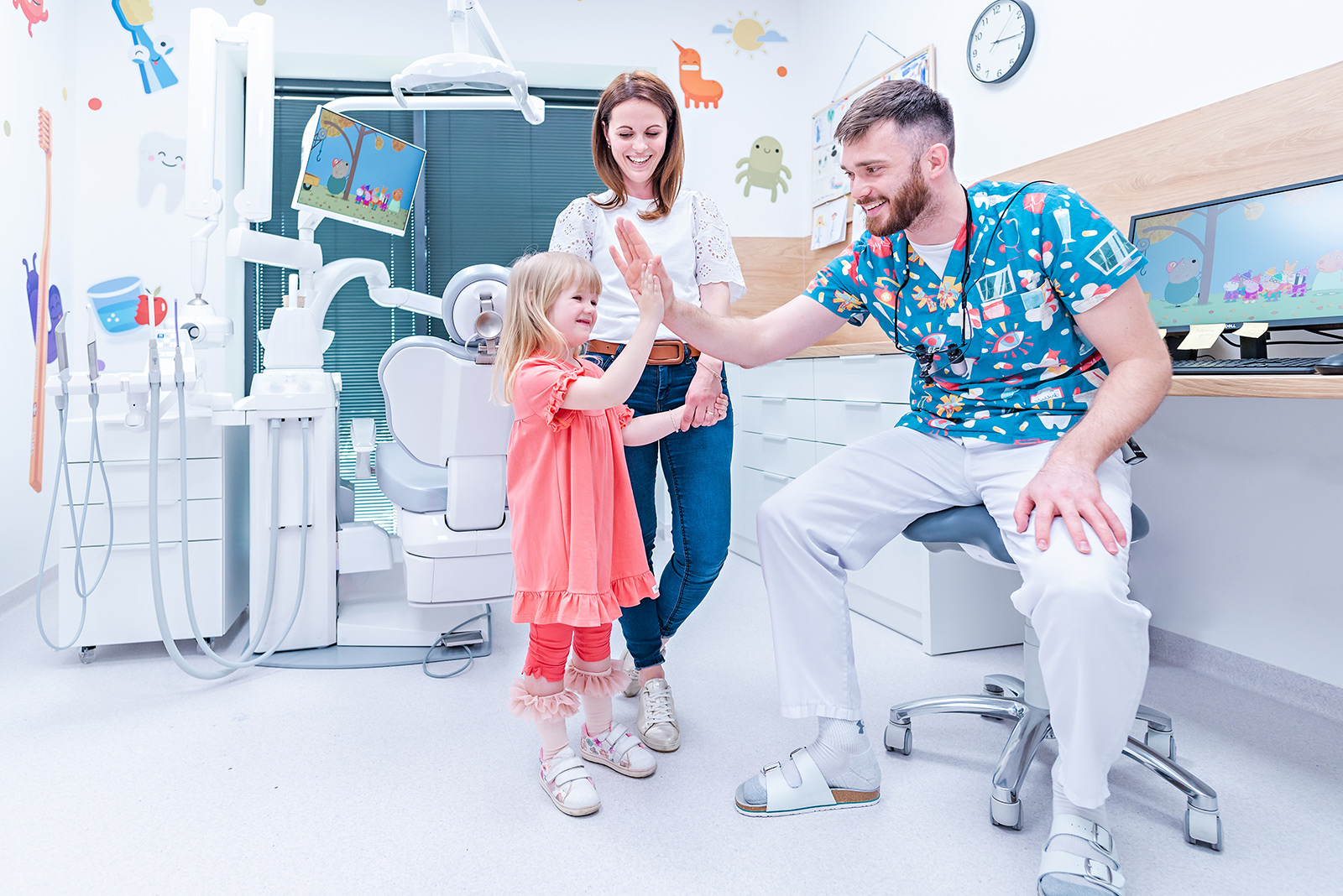 Children's dental clinic SK DENTAL Bratislava:
Professionalism and a pleasant environment adapted to our little patients.
Above-standard care for your child using cutting-edge procedures.
Thanks to the expertise of our paediatric team and state-of-the-art technical equipment, all examinations and necessary procedures are carried out quickly and with proper care.

We value your time
Simply make an appointment via the form or by phone and we will promptly take care of everything else.